In February 2020 I sent out an email to my subscribers - mostly Amazon sellers - asking them about their current challenges with their online business.
A few replied and said they were considering purchasing a $3500 (!) Amazon "online book arbitrage" training program. Others reported the price was $997 to start, then $97/month.
("Online book arbitrage" means finding a lower-priced book on Amazon, or other bookselling sites, buying it, and then flipping it back on Amazon FBA for a profit.)
I have 2 problems with that:
One: The $3500 or $997 price (ridiculous)...
Two: Readers have told me the company is taking money from innocent buyers (that's you), not providing anything of value, disappearing, then re-emerging with a new name!
At one point the $3500-per-customer deal was called "Textbook Money" and "Book Profits"...and "Entrepreneur ____"
In fact, this article says the folks behind Textbook Money engaged in some unscrupulous behavior. It's a lengthy expose.
I have to tell you, all reports point to a scam. Many innocent people, including retirees, have lost hundreds of thousands of dollars...
A few of them contacted me directly to tell me...
There's a chance that the unscrupulous company emerges again. If they do, you'll know what to look for. Always do your due diligence:
Ask other sellers
Google the company and owners' names
Check reviews online
Investigate the owners. Do they have transparency? Are they easy to contact? Do they have legitimate personal or business profiles on major sites (Linkedin, Facebook, etc.)
Ensure whatever you buy has a free trial period and/or no-questions-asked 100% money-back guarantee
Use a credit card where you can dispute the charges if necessary. (Never use a debit card nor your checking account)
...But please don't pay $3500! (Or even $997)...
Yes, online book arbitrage does work. You have to put work into it. And I recommend you learn from a trusted professional.
And now you can, 100% free, no catch with this:
FREE Online Book Arbitrage Webclass: My trusted partner Peter Valley, the originator of online book arbitrage, has real, on-demand training that shows you how to make money flipping books - with no paid tools. Sign up here: bit.ly/2HNF3EW
(Yes, you'll really learn tips from the pros here. You don't have to buy anything to learn some new strategies):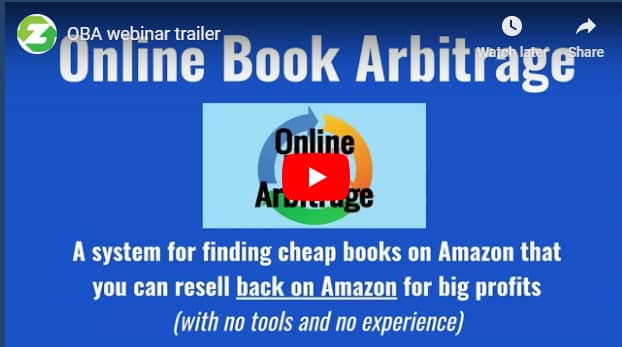 Stay safe, and go with your gut.
Thank you for reading this!
-Jordan Malik of HonestOnlineSelling.com
P.S. Follow me on Instagram, Twitter, Facebook, and Pinterest
I am an affiliate of Peter Valley. If you purchase his product(s) after watching the above-mentioned free webclass, I may receive a small percentage of the sale amount. Remember, you don't have to buy anything to learn online book arbitrage in the webclass.